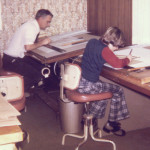 Carl with his Uncle circa 1974…. If you couldn't tell by the plaid bellbottoms
For nearly 100 years Carl's family has been involved in the architectural and design fields, starting with his grandfather's graduation from Cornell University School of Architecture in 1917. His mother, influenced by her father's career as an Architect, became an Interior Designer and later started her own award-winning A.S.I.D. firm in 1979. Having been given many of his grandfather's tools, drawings and blueprints at the age of nine, Carl knew his future was to create great architecture for people to live in and be inspired by.
During and after college Carl worked for firms on wide variety of projects from Institutional, Commercial, Ski & Resort Facilities, to High-Rise Hotels. After which Carl wished to return to his true love of residential design, and in 1985, drawn by its rich architectural history, Carl moved to the Santa Barbara/Montecito area. After working on many large estate properties, city houses and multi-family dwellings, partnering with several other designers, as well as many of his own projects, He formally opened his own firm in 1994.